Home > Solutions and products > Cogeneration > Internal combustion engine coupled to a gasifier
Internal combustion engine coupled to a gasifier
| | |
| --- | --- |
| | Carbon Cycle Generator |
Modular and transportable electric generation from biomass solid fuel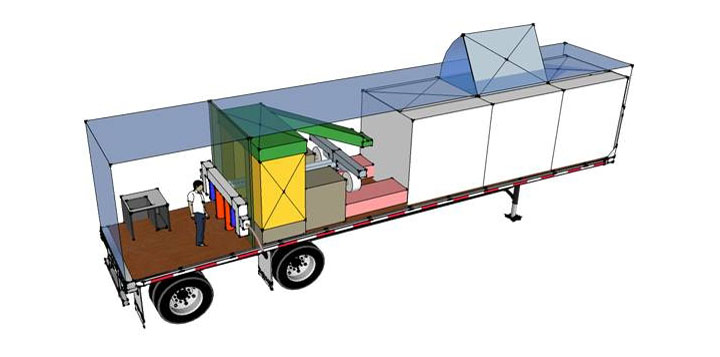 Features:
A modular, stand-alone generator set
Clean Technology
A biomass to energy conversion efficiency comparable or superior to bio-gas systems
100% carbon neutral technology when processing renewable fuels
Cogeneration for electricity & thermal heat
CCGen attributes:
Transportable generator set ( containerized or flatbed-mount)
200kW electric generation and 400kW thermal heat per module
Dual gasifier configuration for built-in redundancy
Robust system design & controls
Simple, reliable operation from a variety of fuels:

Solid briquette fuel
Industrial grade wood pellets
Normalized wood chips and/or wood chuncks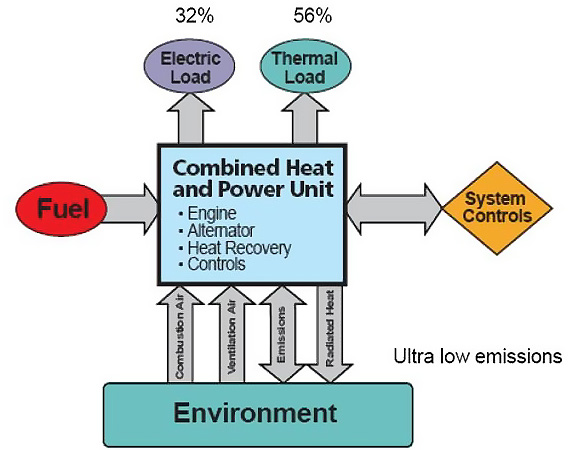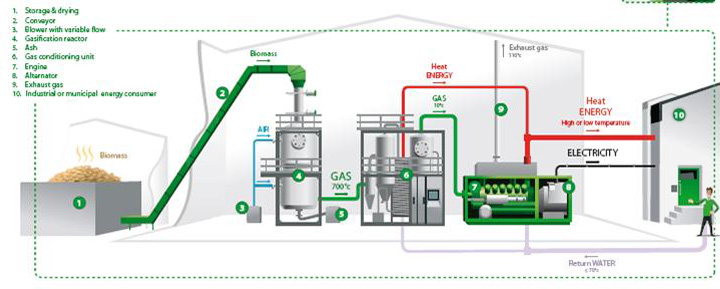 Source: XyloWatt SA
The platform's ability to generate electricity and thermal heat in a small-scale, decentralized mode, establishes a value chain for regional biomass and organic waste streams. Biomass fuel producers and recycling centers alike can leverage their non-commercial waste feeds for energy end-markets through CCGen .
The platform proposes the following innovations:
Hydraulic biomass feed supply mechanism; complete with an integrated drying module powered by the recovered heat from the genset engine exhaust
Water-less producer gas (syngas) cleansing
100% producer gas or robust dual-fuel generator set integration
Target application
Examples
Waste processing

Sawdust waste
Recycling centers
Greenhouse waste
SSO Biogas production waste
2nd/3rd generation ethanol residue
Railroad ties
CCA treated wood

Electrical generation for remote areas (Off-Grid)

Nature Parcs/Bio-sphere
First Nation Reserves
Outfitters
Developing countries

Institutional
Gasification is a promising technology; enabling the conversion of biomass & residual waste to electricity, relatively simply and effectively for capacities < 1MW electrical. For various reasons, no single, small-scale, industrialized, turn-key gasification platform is available on the market. Emispec has designed an integrated CCGen system, a modular gasification platform, to fill this gap.
The system benefits:
Modular electrical generation: best solution to address peak power demands
Cogeneration system by design: electricity + high temperature heat + low temperature hot water
High power density: smaller footprint aloows transport of solution
Highest benefits/ cost ratio for small scale electric generation (<1MWe) from biomass
Transportable system: ideal for distributed, decentralized electrical smart grid. Reduces feedstock transportation cost and incidental greenhouse gas generation
High tolerance to feedstock variance: accepts a variety of feedstock from biomass to urban waste
Carbon neutrality: when using renewable biomass. Negative carbon footprint when using waste material.
On demand production is able to fill the power gaps from wind and solar power. The system addresses surge demand generation to complement wind & solar renewable enrgy systems.