Home > Solutions and products > Solid fuel production from waste
Solid fuel production from waste.
Pyro-Blok : A dense, energy rich solid fuel!
A small scale solid fuel production process solution to reduce enery costs, reduce land fill volumes and contribute to reductions in GHG emissions.
WHY PAY FOR ENERGY WHEN YOU POSSESS IT ALREADY?
Today's issue: Energy is costly. A reliable, clean and cost effective source of fuel is needed. This fuel needs to withstand storage conditions.
Our Solution: THE Pyro-Blok PROCESS
A solid fuel alternative to fuel oil or propane, and a complement to wood chips that is a secure source of fuel in the form of recycled waste.
Our process establishes a value chain in the form of clean, dense, logistically efficient solid fuel. This process reduces waste volumes subject to land filling fees, and reduces total tons of equivalent carbon (tCO2e) that would otherwise be released to the atmosphere.
The automated Pyro-Blok production plant, designed for a production rate of 300 kg/hr, leverages various non recyclable urban fiber feedstock's to form briquettes similar in shape to a hockey puck. The process provides a dual redundant solid fuel supply source to sustain urban core boiler house infrastructure operating on woody biomass within.
Pyro-Blok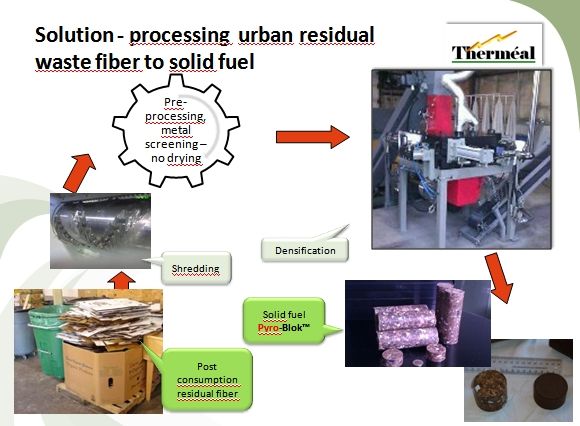 Process Solutions for all SME businesses and communities
Production of briquette pucks 1 inch in length and 50mm ødia for automated industrial boiler plants and/or CHP gasifiers
Production of fuel ingots 6 inch in length and 50mm ødia for small manual fed boilers
Pyro-Blok in summary:
An alternate solid fuel ~ 50% cheaper than fuel oil class 2 and 15% cheaper than wood pellets
A solid fuel 50% more energetic than wood (%w basis)
A clean, renewable fuel, subject to carbon credits
A dense, non hygroscopic fuel with an excellent shelf-life
Contributes to reducing solid fiber landfill volumes
Made from 100% non-toxic, recycled material
Contributes to reducing tCO2e as well as GHG offsets (CH4)
Please consult the following link to download a short presentation file:
The solid fuel product provides a feed supply for thermal heat systems for generation of hot water/steam and/or producer gas applications; an alternative to propane, oil and natural gas.
The product can also serve as fuel for home cooking.
The following video illustrates the constituents of the small footprint the Pyro-Blok decentralized micro solid fuel plant plant. i.e. 45ft (length) x 28ft(width)
Therméal, located in Quebec, Canada, is the IP owner of the Pyro-Blok process; a solid fuel process derived from densified, post recycling, residual waste biomass such as:
food grade waxed cardboard
PCBP cardboard (gable top cartons)
black sphagnum peat
dry sludge powder
mixed paper fiber
wood
The following video illustrates the combustion of 1 kg of solid fuel in a pyro-gasification stove rated to a capacity of 50,000 Btu/hr. The short trial was conducted indoors; without ventilation and/or chimney. The fuel was assembled from waxed cardboard residual waste.
Why Pyro-Blok ?
Cost Efficient: (Your waste becomes your energy)
Production of one ton of Pyro-Blok solid fuel is equivalent to the energy content of roughly 450 liters of fuel oil class 2.
A normalized fuel: More dense than water (Density > 1000 kg/Nm3)
Energy value is 15% higher than wood pellets for the same weight of fuel

fuel LCV 20 mmBtu/MT for waxed cardboard feed vs. 17 mmBtu/MT for wood pellets

Better resistance to storage compared to wood pellets
Land fill costs saving on the waste processed.
Pyro Blok improve the combustion efficiency of combustion appliances.
Reduces CO2 Emissions:
Each ton of paper/fiber diverted saves 6 cubic meters of landfill space
Recycling non recyclable urban solid waste fiber reduces green house gases created in landfills.